When President Buhari ordered the closure of Nigerian land borders, it didn't go down well with some Nigerians. Its result was sharp increase in the price of rice.
But Mr. President did so to stop smuggling, encourage our local farmers to produce the rice we need and also reduce the capital flight that leaves Nigeria. The main motive is to grow the economy by shifting it from consumptive to productive one.
That move saw many rice farmers go back to the farm. The government even supported them by providing soft loans. Many states in Nigeria were able to produce the rice its residents ate this Christmas and New Year. Anambra, Ebonyi, Kebbi, and Kano rice were much in demand this yuletide and the rice farmers smiled to the bank.
That decision of President Buhari is already yielding positive result. The Personal Assistant to President Buhari on New Media, Mr. Bashir Ahmed through his verified Twitter handle said that Nigeria is now the largest producer of rice in Africa with 8 million tonnes as of March, 2019.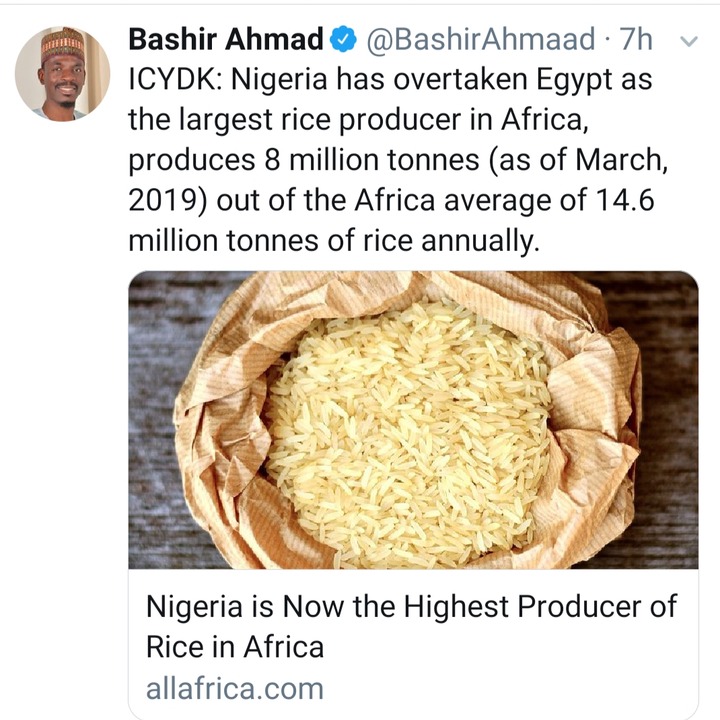 This report was published by Allafrica.com. This is a big achievement considering the fact that Africa produces an average of 14.6 million tonnes annually.